Tomato, sweet yellow pepper and sweet potato soup

Sweet yellow peppers and tomatoes are full of vitamin C.
This is a tasty soup that will be loved by children and adults alike throughout the winter. Full of flavour and the natural sweetness from the carrots and sweet potato, this soup can be adjusted to include other favourite vegetables from your garden, fridge or even freezer. It is also easy to freeze and almost certainly tastier and better for you than tinned soup.
Cooking Time: 30 minutes
6 Servings
Ingredients:
2 tbsp olive oil
1 large onion
2 large carrots
1 celery stalk with leaves
2  tins of chopped tomatoes (2x400g)
1 large sweet potato
1 clove garlic
250g mini sweet yellow peppers
600 ml vegetable stock
3 sage leaves
Salt and black pepper
Chop the onion, carrots, celery, sweet potato, mini sweet peppers and garlic.
Heat the oil in a heavy based pot. Add the onions, peppers and celery to the pan and sauté for 3 to 5 minutes or until soft.
Pour in the chopped tomatoes and then add the carrots, sweet potato and sage leaves. Reduce the heat, cover with a lid and simmer for 5 minutes.
Add the vegetable stock and cook with the lid on for a further 20 minutes or until all the vegetables are soft. Blend until smooth and then season. Garnish with finely chopped sage.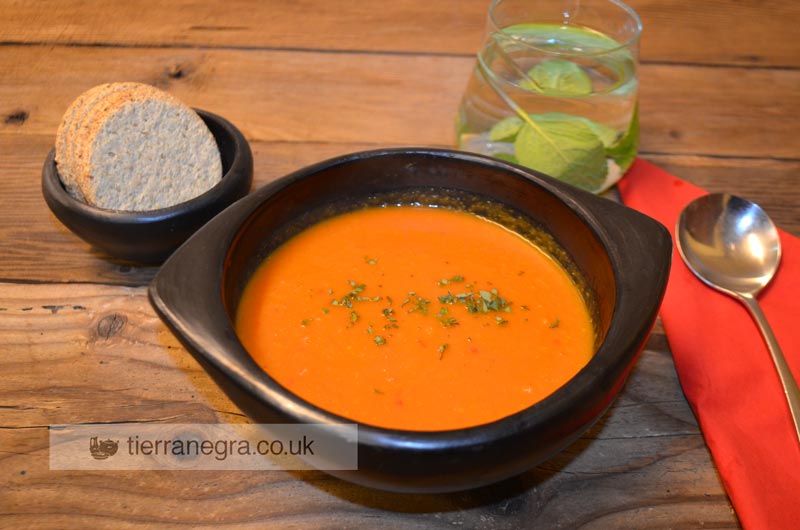 Cooked and served in: CL 433 Deep casserole and CL 134 traditional bowl