Chestnut mushroom soup
A clay pot with a thick base is ideal for the slow cooking of vegetables.
If you have never used one before, try cooking this chestnut mushroom soup in your tierra negra pot; you will discover just how easy clay pot cooking can be and how delicious the results.
We use this recipe as a template for cooking many soups and have found that it works with most vegetables. Soups are an excellent way to include a variety of vegetables and herbs in our diet and what is left over can be put in the freezer for another day.
Cooking time: 30 min.
Serves: 4-6
Ingredients:
600g chestnut mushrooms
2 medium onions
1 large sweet potato (about 400g)
2 sticks of celery
2 cloves of garlic
1 litre vegetable stock
2 tbsp vegetable oil
A handful of parsley
Finely grated nutmeg
Salt and pepper
Peel the sweet potato and then rinse and chop it together with the mushrooms, celery, onions and garlic. Chop the parsley as well and add most of it to the vegetables, keeping some for garnishing later.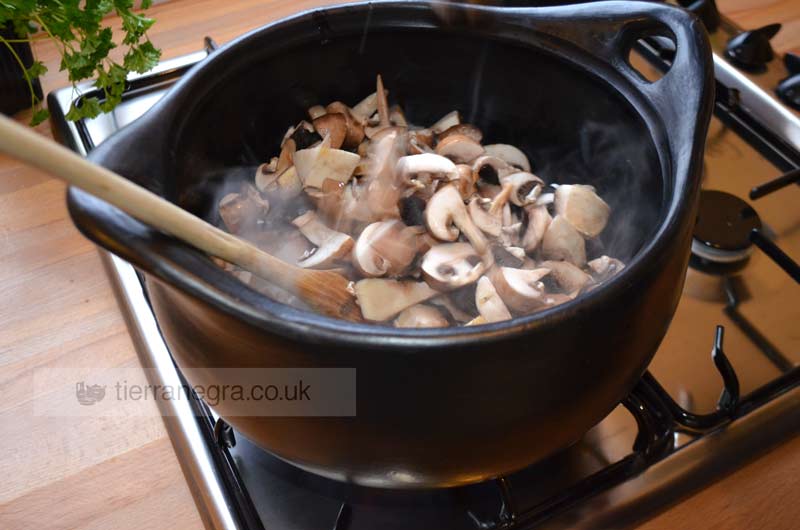 Heat the cooking pot over medium heat. Throw in all the chopped vegetables and sauté for a few minutes. Reduce the heat to low, cover with a lid and simmer for 5 to 10 minutes. This will draw out and intensify the flavours.
Pour in the vegetable stock, turn the heat up and bring to the boil. Simmer for a further 10 to 15 minutes or until the vegetables are soft. Purée, garnish with the nutmeg, salt, pepper and parsley, and serve.
Cooked on the hob using a tierra negra CL 434 Deep casserole.