Summer fruit bake
This Summer fruit bake is a deliciously juicy dessert. It requires only a few minutes of preparation before being placed in the oven. We made it with a mixture of strawberries, raspberries, blackberries, plums and red currants. You can also use other fruits like cherries and black currants.
This dish can also be made at other times of the year using frozen fruit. Frozen summer berries release plenty of juice when defrosted so they work well in cooked dishes like this.
Cooking time: 30 min
Serves: 4 to 6
Ingredients:
500g fresh or frozen summer fruits (thoroughly defrosted if frozen)
320g or 1 sheet ready rolled light Puff Pastry Sheet (available in any supermarket)
50g muscovado sugar
Ice cream or Greek yogurt to accompany
Arrange the fruit in the baking dish and sprinkle the sugar on top. Mix well.
Roll out the pastry and place over the fruit. With the oval dish here we cut the pastry to fit and then used the remaining pastry to make the leaves which we placed on top. You should pierce the pastry with a skewer in a few places as shown.
Place the dish in the centre of the oven and bake for 25-30 minutes at Gas mark 4 or 180 ˚C (Fan 160˚C), or until golden brown.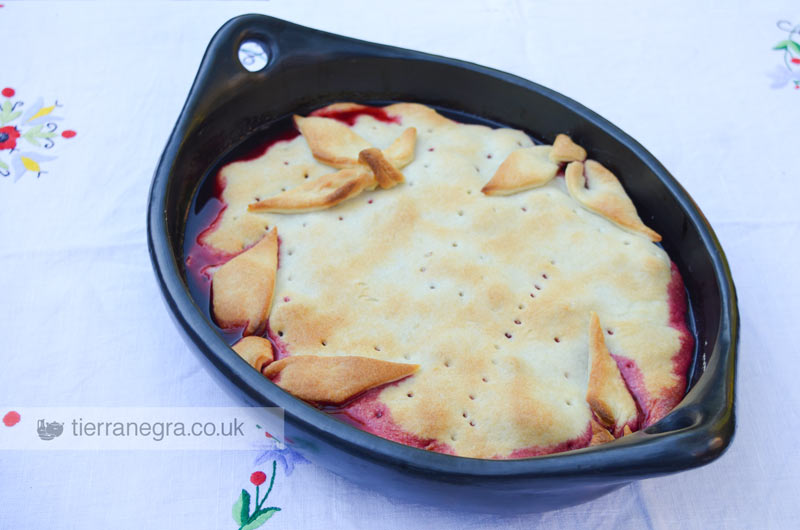 You will be rewarded with a deliciously light and sweet summer fruit bake, perfect when served with yoghurt or ice cream.
We made this dish with a tierra negra size 4 oval sauté dish (CL 004).