All-in-one Brown Rice with Fish and Vegetables

Cooked on the hob, this unusual dish combines the delicious flavours of salmon, mackerel, baby spinach and asparagus with wholesome brown rice. The thick base of a clay casserole is ideal for the slow cooking that brings out the best in this wonderful meal. This easy-to-make recipe uses whole grain brown rice and no oil or butter.
The salmon and brown rice are first boiled and then simmered for a short time before the other ingredients are added. It is important to start cooking the salmon and rice from cold so that they have time to "stew" as they cook.
Cooking time: 1 hr
Serves: 6
Ingredients:
400g brown rice
4 salmon fillets, or about 500g
200g smoked mackerel fillets
1.2 L water (1L + 200ml added later)
450g carrots
100g asparagus
120g baby spinach
150g sweet mini peppers
100g spring onions
A bunch of parsley
Salt and pepper
Goats' cheese (optional)
Although kept aside and not added until later, the mackerel fillets will need to be grilled first and then skinned and shredded.
Put the brown rice in a deep clay casserole, place the salmon fillets on top and pour 1L of cold water or just enough to cover the fish. (The idea is to slow cook from cold). Place the casserole over a high heat.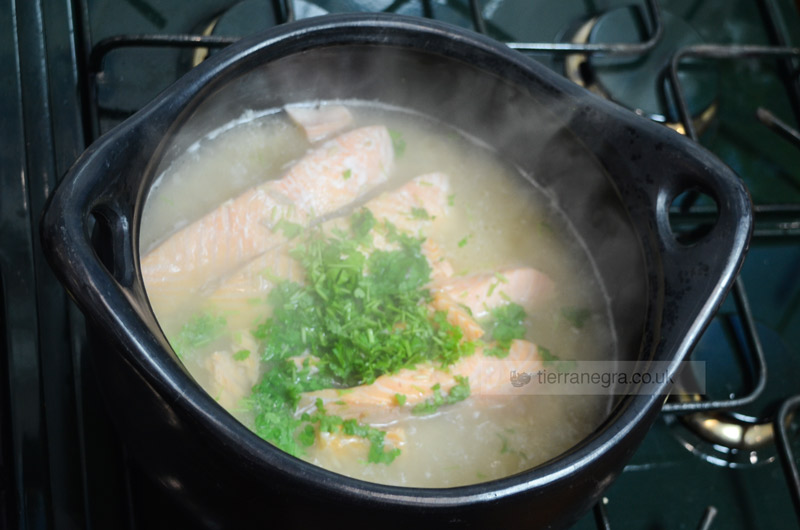 Bring to the boil. This will take about 15 minutes. Reduce the heat to medium-low. Using a clay casserole you will notice that the liquid will continue to boil for a while and then simmer. Add the parsley, salt and pepper. Simmer with the lid on for 10 minutes.
Add the carrots and continue to simmer with the lid on for a further 10 minutes.
Add the peppers and onions and simmer for another 10 minutes, again with the lid on. Stirring occasionally is important to make sure that the rice does not stick to the bottom of the casserole. Add a little more liquid as required. The rice should be allowed to absorb the flavours slowly whilst staying relatively firm during cooking.
Add the mackerel and baby spinach and mix well and the place the asparagus over the top. Replace the lid and let the casserole steam for 5-10 minutes or until the spinach is cooked, the asparagus is al dente and the liquid has been completely absorbed. Simmering with the lid off may be necessary if the rice is too watery; this will dry the excess liquid off.
The rice should be dry and well separated when done. Garnish with the parsley and add the goats' cheese as required. Seat your guests around the table and serve directly from the casserole!
Used for cooking on the hob: CL 434 Deep round casserole (3.5 L)
Used for serving: CL 143 Soup bowl with handle; CL 712 Small sauce dish; CL 295 Dinner plate.