Apple and bramble crumble with oats

Many of us lucky gardeners have been rewarded with a bumper crop of apples and pears this autumn. Nothing really compares with the sheer joy of eating fresh fruit picked from the tree. If there is too much fruit to eat when it's fresh then you can slice the apples and freeze them for use later on in the year.
One of the favourite ways of enjoying surplus apples in our home is in crumbles. We make apple crumbles with a mixture of Bramley and eating apples from our garden and do not need to add any sugar to the fruit mix.
For extra flavour and colour we often add fresh blackberries, although a pack of frozen berries from the supermarket can also be used. For a crunchy topping we use oats instead of flour.
Cooking time: 25-30 min
Serves: 4-6
Ingredients:
For the filling:
1kg mix Bramley and eating apples
150 – 200 g blackberries
50 ml any fruit juice
For the crumble:
200g rolled oats
75g softened butter
150g dark brown or Demerara sugar
1 tsp cinnamon powder
Start by buttering the baking dish. Peel and core the apples and cut them into small pieces. Place them in the baking dish and mix in the blackberries and the juice. Stir well, taking care not to break the fruit.
Mix together the oats, sugar and cinnamon powder in a large mixing bowl. Adding a few cubes at a time, gently rub the butter into the oats mixture. Keep rubbing until all the ingredients are well mixed. Sprinkle the crumble mixture evenly on top of the fruit.
Cover the baking dish with aluminium foil and bake in the oven at Gas mark 4 or 180 ˚C (Fan 160˚C) for 10 minutes. Remove the aluminium foil and bake for a further 15-20 minutes or until the topping is crisp and golden brown and the fruit is bubbling at the sides.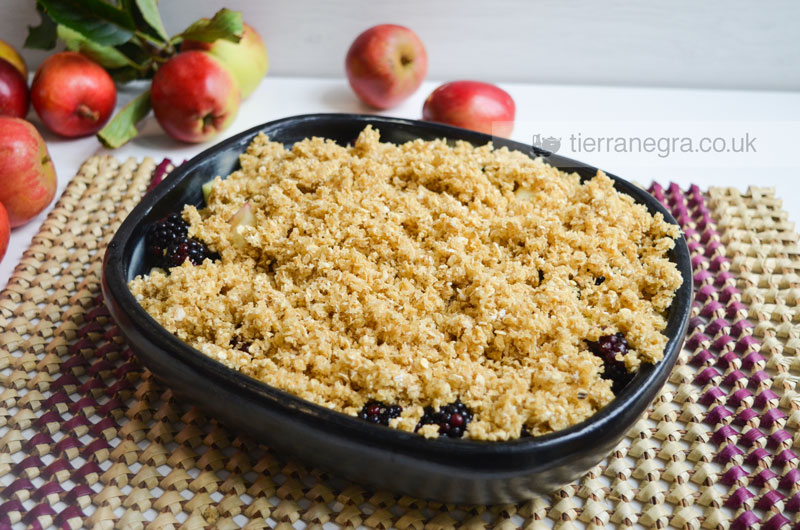 Used for baking: CL 353 tierra negra™ oblong dish (24cms)